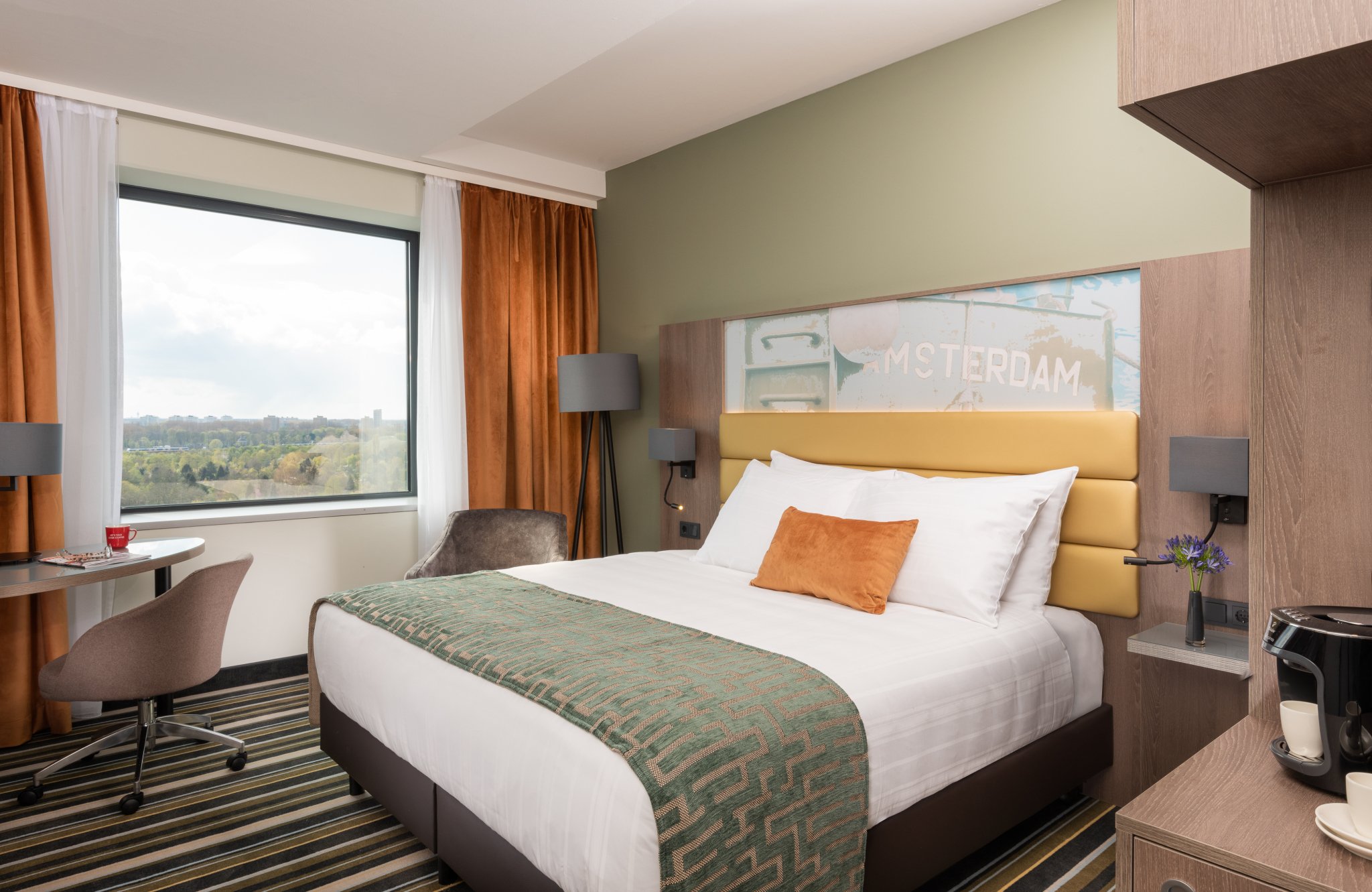 Leonardo Royal Hotel Amsterdam
Recensioni degli ospiti
The hotel is really modern, well equipped, wide common areas and rooms with any facility you need, including super comfy mattresses. The breakfast is rich and various. It's not close to the town center but it's only 10 minutes by train and the station is right in front of the hotel. The minus is the time of the kitchen that stops at 22 sharp! Neither a slice of cheese or a toast, no room service! Your only option is to ask for a Uber Eats delivery... Not so nice in a 4* hotel :-(
This is a fantastic hotel. The location is perfect for fast metro access to central Amsterdam as the Metro is just a 1 minute walk. Beautiful Canal walks/running/cycling can all be had straight from the hotel. The food and drink available are extremely high quality and all staff are proffessional, polite and friendly. Highly recommended.
Excellent customer service"
Very good breakfast and especially the chef making omelettes. Every employee was willing service and no one seem to "hide away" so very good customer service. Room was also good and tidy.
Excellent Service and accommodation"
Nice rooms good breakfast excellent conference rooms
Experience - shocking front of house reception service"
the hotel rooms were great, breakfast great, however one area of disappointment which is very important was the very slow service at the reception desk, this was felt by myself and other guests, this is the area you need to improve upon, far to slow and no focus, customer experience ruined. Thanks
One of the Best Hotel in Amsterdam"
Pros: Direct Metro and Bus line from Central station Perfectly 200 meters away from Metro station Nice breakfast Room were clean and nice Cons: Fixed windows, cannot open for fresh air small fitness studio
Good to Know
Hotel accessibili ai disabili
Pagamenti solo con carta
I pagamenti in contanti non sono accettati
Animali ammessi:
€10 a notte
Gli animali non sono ammessi al bar e al ristorante
Parcheggio sotterraneo privato:
Stazione elettrica di riempimento
Servizi & Attivitá
Buffet di colazione:

19 € a persona*
Lun - Ven: 06:30 - 10:30
Sab - Dom: 06:30 - 11:00

Ristorante

Orario del pranzo
Tutti i giorni 12:00 - 15:00

Orario di cena
Dom - Gio: 18:00 - 22:00
Ven - Sab: 18:00 - 23:00

Bar

Dom - Gio 09:00 - 23:00
Ven - Sab 09:00 - 01:00

Grab'n'Go Bar

Lounge

Prima colazione
Sauna

Palestra

Bagno turco

Noleggio biciclette
Lettini per bambini

Deposito bagagli

Servizio in camera 24 ore

Servizio di sveglia

Servizio di lavanderia

Servizio stireria

Servizio di copia e fax

Cassaforte alla reception

Servizio in camera
Sale riunioni

Adattatore / caricatore

Noleggio biciclette

Centro business