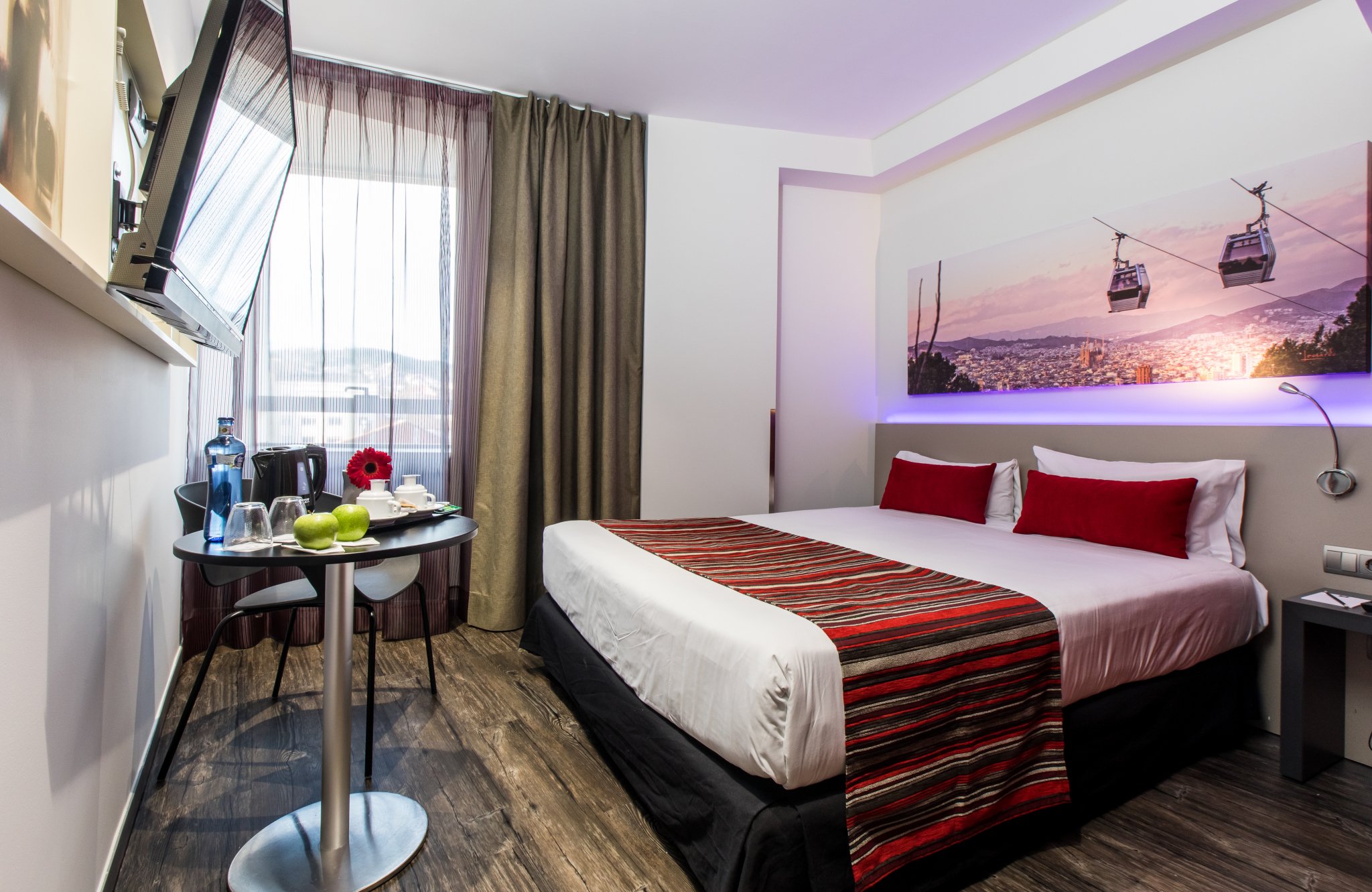 Leonardo Boutique Hotel Barcelona Sagrada Familia
Recensioni degli ospiti
Hôtel très sympa, proche de la Sagrada familia et du métro. "Vue sur la Sagrada familia" si on se penche suffisamment de son balcon Parking complet, dommage, mais ils nous ont proposé un autre parking pas très loin qui faisait une réduction si on venait de l'hôtel. Très propre, bon petit dej et personnel qualifié.
Top, tolle Ecke von Barcelona, Metro um die Ecke, lebhafte spanische Local Ecke! In 10min zu Fuß zur Sagrada familia. Würden dieses Hotel jederzeit wieder buchen!!! Perfekt um ein paar Tage in Barcelona zu verbringen!"
Bien ubicado y excelente personal. La habitación tenía algunos detalles de desgaste por uso ( maneta de la puerta de terraza rota) y alguna toalla con agujeros. !Pero en lo demás, de 10! !Muchas gracias!
Hotel muy por encima de las 3 estrellas que ostenta"
Una vez más me dejo convencer por un hotel de 3 estrellas que tiene nivel de 4. Relación calidad precio muy conveniente. Lo único (no tiene que ver con el hotel) es que el parking (si llevas un coche grande como fue mi caso) se hace difícil!! pero el personal incluso me dejo una de las plazas mas amplias. Todo OK.
Overall it was great, with just a couple of mentions."
So we stayed in the apartment for 9 nights, and 80-90% of the things were great, about the apartment I mean. That's why we have decided to come back in December for another stay. Here are some of the things that weren't that great, and hopefully we'll see some improvements by when we come again in December, that would be great. 1. Kitchen wise - The cutlery wasn't great, it was usable but more quality would be desired. There were no knives to cut meat, vegetables, bread, etc. I am not sure if it is something related to your policy as a hotel, but having at least a decent chef's knife would be great, cause that can be used for various things. Also, we bought some vegetables and fruits and we didn't have any proper tools to peel them, like a knife or something for that kind of stuff. It took us a half an hour to be able to peel some potatoes with what was provided. - The kitchen utensils were bad, very low quality, made out of cheap plastic, they seemed like toys to be honest, we couldn't really use those when we did cook. We had to buy a couple of things on our own in order to avoid having a health hazard. Cheap plastic utensils don't work when you are frying, and boiling something, I guess you would know why. You should equip the kitchen with some inox/stainless steel utensils, the bare minimum at least. - Out of the fryings pans, I think there were 3, only the big and small one were decent enough, but even those were quite old, and not in the best condition. The medium sized one was in a pretty bad condition, the bottom wasn't even flat anymore. I mean overall you could use the frying pans, cause we did, but it would be great to add like a Wok frying pan to the collection, that's more versatile in a way. - Oven wise, there was only one oven tray which was pretty much a roasting tray. It would be great if you could add a baking tray as well, like those ones that are made of aluminum or whatever. The kitchen itself was great, the oven was great, the stove was great, the fridge was great, the microwave oven was working fine, so yeah. The only issue we had with the kitchen was related to the kitchen accessories, as mentioned above. Basically the kitchen accessories were not on par with the rest of the things. 2. The AC - During our stay the AC was not really working. The outside unit was really noisy, the one that's on the balcony. We were not able to stay on the balcony when the outside unit was working, and I guess it would also bother the neighbours, especially during nights. - The inside units, the ones from the living room, and the one from the bedroom, were quite dirty inside, you could see the thick layer of dust inside them. I assume you should change the filters as well. - The inside units were not giving any cold air, even on the lowest temperature setting, on cooling mode, it was pretty warm to be honest, it was more like a regular fan which is just spinning the air from the room, at room temperature. You might need to change the freon. So because of the things mentioned above we decided to just have the windows open, but a working AC would've been great. And as we mentioned during our check-out process, it would be great if this would be solved by December, when we come again. Because during the nights it might get cold and we'd like to be able to use the AC to warm up the room. So our main issues were regarding the things that we mentioned above. Other than that everything was great. The rooms were great, the cleaning service was great, the reception was great. We were impressed by those things. Again, that's why we have decided to stay with your hotel and book the apartment again during our December stay. So when we come back in a couple of months, it would be great to see improvements in the mentioned areas. Also, you could add a small safe in the apartment, as we didn't find one during our stay. Like the typical safe that can be found in most hotels rooms. Thanks and see you soon!
Good to Know
Hotel accessibili ai disabili
Camere anallergiche su richiesta
Gli animali domestici non sono ammessi - solo cani guida
Parcheggio pubblico sotterraneo:
18,15 € al giorno, la prenotazione in anticipo è possibile con la tariffa Park & Sleep
Servizi & Attivitá
Buffet di colazione:

10 € a persona*

Lunedì - domenica: 7:30 - 10:30

Grab'n'Go

Lounge AdvantageClub
Lettini per bambini gratuiti:

Servizio di lavanderia

Cassaforte alla reception
Camera di cortesia

gratuito, a seconda della disponibilità